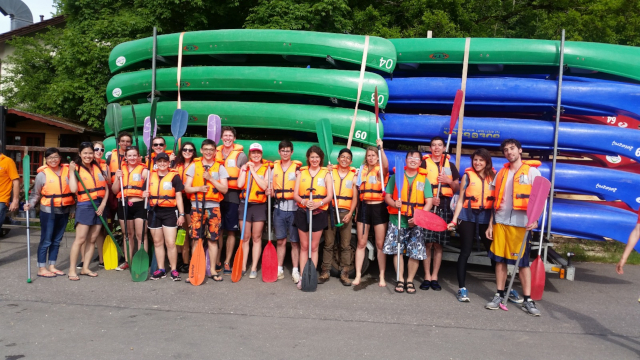 Have an unforgettable weekend with us in the fantastic Danube-Valley!
The summer is beginning to let Tübingen shine bright like a diamond and it is time to experience the nature's beauty of the area around here.  That is why we are going to experience three amazing days in the gorgeous Danube-Valley (Donautal), from Friday (14th of June 2019) to Sunday (16th of June 2019). The Danube-Valley is an unique wildlife park and one of only seven in Baden-Württemberg. It is very impressive due to its untouched nature and magnificent landscape.
We have arranged an exciting and interesting program for you: On Friday we will do a  ~ 4 h hiking trip to our accommodation (so with your backpack!) with breathtaking views over the Danube valley and we will have dinner and a bonfire in the evening. As the highlight of this weekend we will spend Saturday canoeing on the Danube river. This way we can experience the terrific sights of the Danube-Valley in an unique way. A lot of fun and action guaranteed – the brave ones of you might even go for a swim 🙂 On Sunday we will visit the old city of Sigmaringen and the beautiful and historical castle of Sigmaringen, bringing this amazing weekend to an end.
The whole 3 days will cost you only 75€ – everything included EXCEPT the lunch box, drinks and snacks for Friday during the hiking trip and the lunch on Sunday afternoon. You can pay during our office hour. 🙂
Beverages can be purchased at the accommodation.
Also you should bring your Naldo-Semesterticket with you. If you don't have it on you, you will have to pay the train/bus to get there on your own. 🙁
So be quick and register here for this unforgettable trip (the spots for this trip are limited). Later, we will send you a newsletter with more information.
Please notice: Unfortunately,  you have to be able to swim in order to come with us on this trip.
When: Friday, 14th of June 2019, 8.40 a.m. (instead of 9am!)
Where: Tübingen central station, waiting hall
costs: 75€
Registration until 23/04 10am -> pay on 23/04 10-12 at the Clubhaus
Registration 23/04 – 29/04 4pm -> pay on 29/04   4-6pm at the Clubhaus
Registration until 29/04 – 06/05 4pm -> pay on 06/05   4-6pm at the Clubhaus
and so on …
We're looking forward to seeing you there! 🙂