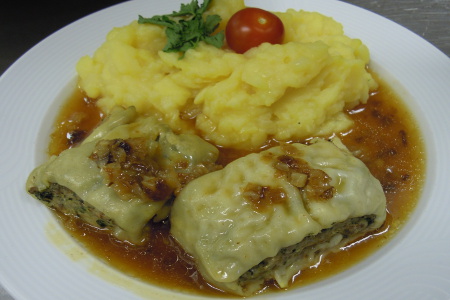 The waiting list will be opened on Thursday (24.10.2019) from noon until 1.30pm! First come, first serve, for everyone!
Explore with us the culinary specialties of the Swabian cuisine. We would like to invite you to enjoy an original Swabian dinner: Maultaschen (dumplings) with potato salad.
Non-alcoholic drinks and an vegetarian alternative of the "Maultaschen" also will be available and we are already curious how you will like this local dish, which is also called "Herrgottsbscheißerle" in the Swabian dialect.
So step by – we are looking forward to welcoming you!
When? 24th October, 8 pm
Where? Martinssaal, Frischlinstraße 33, 72072 Tübingen
Costs: 3 euros
You can register here. With your registration you accept our Conditions of Participation.
As always: When you register you have to come to the next possible payment opportunity, otherwise your registration might be canceled.